COMPLETE SERVICES PTE. LTD is looking for dedicated and hardworking individuals to join our team as Cleaners required in Singapore. As a Cleaner, you will be responsible for maintaining a clean and sanitary environment for our clients. You will be required to perform various cleaning tasks such as sweeping, mopping, dusting, and vacuuming.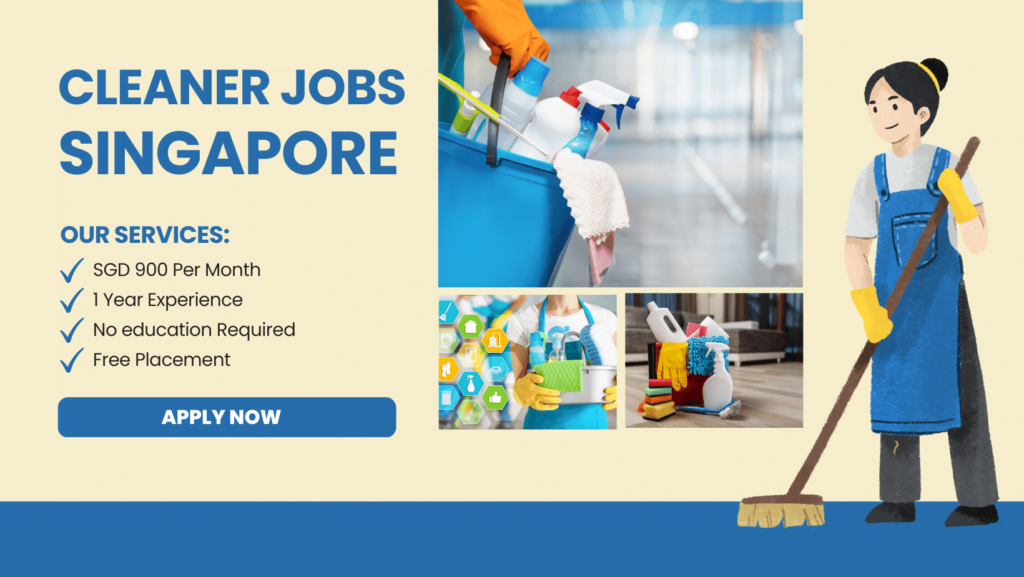 Jobs Data
Salary: 900
Salary Currency: SGD
Payroll: MONTH
Date Posted: 2023-04-15
Posting Expiry Date: 2023-12-31
Employment Type : FULL_TIME
Hiring Organization : Complete Service LTD
Location: 20 Kensington Park Rd, 557269, Singapore
Experience Required: 12 Months
Responsibilities:
Perform general cleaning tasks such as sweeping, mopping, dusting, and vacuuming.
Clean and sanitize restrooms and other facilities.
Empty trash cans and dispose of waste appropriately.
Maintain cleanliness and organization of the cleaning equipment and supplies.
Follow safety procedures and protocols at all times.
Report any maintenance issues or repairs needed to the supervisor.
Requirements:
Physically fit and able to stand, bend, and lift for extended periods of time.
Ability to work independently or as part of a team.
Good communication skills in English.
Possess a strong work ethic and attention to detail.
Prior experience in cleaning is an advantage but not necessary.
Working Hours:
6 days work week (off on Sundays)
8 hours per day (including a 1-hour break)
Salary:
Starting salary of SGD 900 per month (negotiable based on experience)
If you are passionate about maintaining a clean and safe environment and meet the above requirements, we welcome you to apply for this position. Please submit your resume and a brief cover letter highlighting your experience and suitability for the role.